Gregorian - Live! Masters Of Chant (2016) BDRip 720p
Creado 1476816795
Seguidores:

0
Favoritos:

0
Puntos:

300
Medallas:

7
Música
Seguir

Gregorian - Live! Masters Of Chant (2016) BDRip 720p
Screenshots: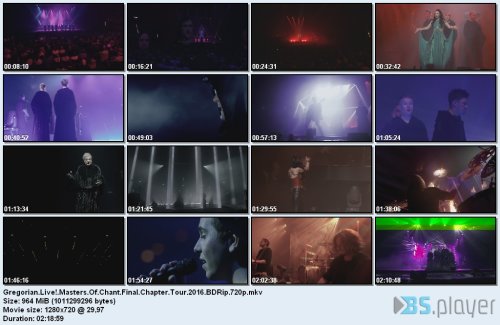 Setlist:


01. Masters of chant
02. Still haven't found what i'm looking for / only you
03. Stay
04. Join me
05. Lady in black
06. Meadows of heaven
07. Now we are free
08. Strong
09. Shout
10. Cry softly
11. Hurt
12. The raven
13. Kiss from a rose
14. Crying in the rain
15. Caruso
16. One
17. World without end
18. Born to feel alive
19. Hells bells
20. In my life / crazy, crazy nights / good night companions
21. Time to say goodbye
22. Gloria: gregorian version
23. Moment of peace
24. Hymn
25. Just for you
26. Sky & sand

About: Now it's "Farewell!" Gregorian have opened the last chapter of their successful "Masters Of Chant" saga with the tour to the "Final Chapter". A moving farewell that was held for all fans in stunning pictures. What began in 1999 for producer Frank Peterson and the band developed rapidly into an impressive triumphal procession: Over 10 million albums sold and numerous gold and platinum titles make Gregorian one of the most successful German acts worldwide. For the time being, the unique interpretations of iconic pop and rock singing in Mönchskutte can now be seen and heard as an impressive live documentary. Gregorian is once again able to transform old melodies into a new, timeless sound universe and to take the listener on a fantastic journey through all genres and decades of music history. The breathtaking live production, spiked with a great light and laser show, pyro effects and imposing choreographies is once again an overwhelming live experience with the powerful voices of the classically trained singers under the co-operation of Amelia Brightman and Countertenor Narcis.



Info:


Source:  Ear Music
Genre:  New Age | Choral
Quality:  BDRip | 720p
Format:  MKV | 3479kbps
Length:  02:18:00 | 4.94Gb
Video:  H.264 | 1280x720 | 16:9 | 29.970fps
Audio:  DTS | 1536kbps | 48kHz | 2 channels: L R
Language:  English






https://www.keeplinks.eu/p84/580390e91633e
pass: galexandersHD

Otros posts que te van a interesar:
Cargando comentarios espera un momento...
No tienes permisos para comentar.